GEOSC 10 - Geology of the National Parks
(Web version)
Course Authors: Dr. Richard Alley and Dr. Sridhar Anandakrishnan
Overview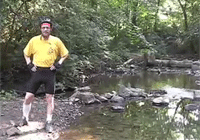 "It would be fun to take a tour of all the national parks, learning a little about each. But Penn State would not award you General Education credit for such a course—you are supposed to be taking a tour of a field of knowledge, in this case geology. So, we will take a tour of geologic ideas. But, some of the best geological features of the world are enshrined in the U.S. national parks. We will use national parks as illustrations, delving into park history and culture when we can, but concentrating on those things that illustrate how the Earth works." - Dr. Richard Alley
Geosc 101 is designed to serve undergraduate non-majors who need to fulfill a General Education requirement and think that learning about the geology of the national parks is just the right way to do it.
Want to hear more? Watch a brief video introduction from Dr. Alley! (Link will open in a new browser window.)
Course Goals
This is a fun course. Our four goals for the course are:
to help students become better-informed citizens on topics that may affect them in the future (groundwater pollution, biodiversity, volcanic hazards, etc.)
to demonstrate what is and is not believable about science, those subjects on which scientists are usually correct and those on which scientists have no special expertise
to give students enough geological background that they will get more out of their next visit to a national park; and
to show students enough beautiful places that they can't wait to go out and visit some of them.
We must do this within the framework of Penn State General Education, by providing a comprehensive view of a recognized subject area (geology and related topics), stimulating critical thinking and cross-disciplinary understanding, etc.
Course Environment: How does this course work?
The Department of Geosciences offers two versions of GEOSC 10: one in the classroom, the other on the Web. The use of the World Wide Web permits us to teach beyond the traditional borders of the classroom, and to a wider and more diverse audience. As there are no preset meeting times for the online version, this course is well suited to the needs of those who are struggling with scheduling issues, working students, and adult learners. In the online version, course activities take place on the Web, mostly within the University's online course management system, ANGEL (http://angel.psu.edu). You won't have to log in to the class at any particular time or place, but you are required to keep pace with a weekly assignment calendar. You will communicate with your instructor and with fellow students within ANGEL by threaded discussion (a kind of public email) and course e-mail. You should plan to devote as much time to the course as one would to a traditional 15-week course (8-12 hours per week).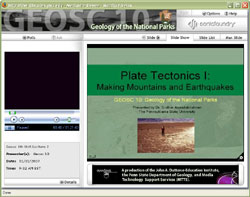 Weekly lectures are delivered through Mediasite Live, an online video presentation system hosted by Media & Technology Support Services, part of the University Libraries. The required text, Rocking the Parks: Geological Stories of the National Parks, is available on-line through ANGEL at http://cms.psu.edu. It is a short, targeted book. When we have surveyed students, most preferred free over fancy!
Assessment
Students are graded on four things in this course:
10 out of 12 Class Participation ("StudentsSpeak") Surveys (@ 1% each, 10% of total grade)
Surveys are a useful tool for getting feedback from you about the big ideas presented each week.
10 Weekly Quizzes (4% each, 40% of total grade)
Out of 12 quizzes, the lowest 2 grades will be dropped.
1 Final Exam (25% of total grade)
The final exam is comprehensive, scheduled during Finals week (exact date/time to be arranged by PSU scheduling).
5 out of 6 Exercises (5% each, 25% of total grade)
Students must complete five (5) exercises chosen from among six (6). Access to these exercises is through ANGEL.

Extra-credit opportunities will be available at different times throughout the semester. Generally, these opportunities will involve contributing to the course experience for everyone in some way, such as sharing one's own park photos in the form of a "virtual fieldtrip."
Technical Specifications: What kind of computer hardware and software will I need?
GEOSC 10 Technical Requirements

Operating System
Windows 2000, ME, or XP
Macintosh OS X (10.2 or higher)
Processor
500 MHz or higher
Memory
128 MB of RAM
Hard Drive Space
500 MB free disk space
Browser
Mac OS X: Firefox 1.0 or higher
Windows: Internet Explorer 6 or higher -OR-
Windows: Firefox 1.0 or higher


---

Note: Cookies, Java, and JavaScript must be enabled.
AOL users should connect through AOL and then use
one of the browsers listed above.
Plug-ins
Adobe Reader [Download from Adobe]
Flash Player [Download from Macromedia]
Modem
56 kbps or broadband connection
Printer
graphics-capable printer
CD-ROM
not required
Sound Card
and Speakers
required
Monitor
15" monitor (1024 x 768 resolution)
Registration: How do I enroll?
This course is offered during the fall and spring semesters each year. If you're interested in enrolling in the Web version of GEOSC 10 and you're a student at the University Park Campus or any of the participating Commonwealth Campuses, register for this course as you would any other class.