African Rift Volcano Case Study: Nyiragongo
Most of the many active volcanoes in the East African Rift are located in areas with low population densities, so their eruptive episodes do not pose a major danger to human life. One very dramatic exception to this general rule is Nyiragongo, an active volcano located in the Western Rift within the Virunga Volcanic Province.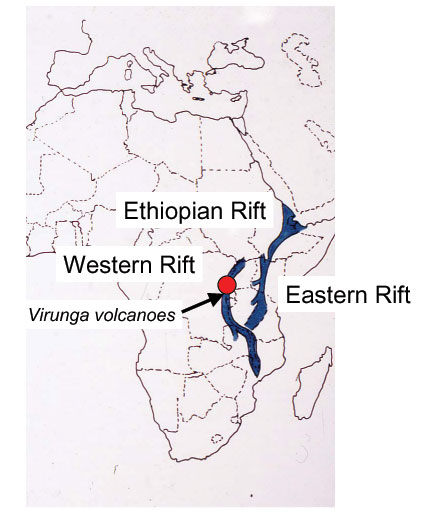 Nyiragongo. Source: From the personal collection of Dr. Tanya Furman.
The Virunga Province comprises several volcanoes; the two westernmost – Nyiragongo and Nyamuragira –have both been active in recent historic time.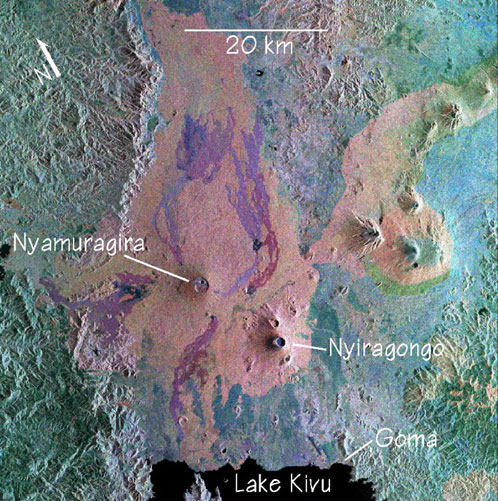 Virunga Mountains image captured during a 1994 Space Shuttle Imaging Radar mission. Processed by Peter Mouginis-Mark. Source: School of Ocean and Earth Science and Technology, University of Hawaii at Manoa.
If you have heard of Nyiragongo before this course, it is probably because the last refuges of the mountain gorilla are found within the densely-vegetated slopes of the Virunga volcanoes. This volcanic mountain towers above the town of Goma, Democratic Republic of the Congo, located only 18 kilometers (11 miles) to the south .

Lush vegetation on the slopes of Nyiragongo volcano (right). Source: From the personal collection of Dr. Tanya Furman.
Goma is located on the shore of Lake Kivu, which seems like a fine place for a town of about 400,000 people. The climate is lovely, the scenery is fantastic, the soil is rich, and the lake is a reliable source of fresh water. However, a wide array of volcanic hazards makes Goma a dangerous place to call home. The area is subject to earthquakes and volcanic eruptions, as well as dangerous phenomena related to volcanic gases. Mazukus ("evil winds" in Swahili) are low-lying areas with CO2 vents. Steady degassing related to volcanic activity underneath the ground produces abundant CO2 – the gas accumulates in topographic low spots because it is denser than air, and incautious people and animals can lose their lives quickly from a mazuku.
Lake Kivu contains vast quantities of dissolved CO2 and CH4 that make it less than ideal for home use. In some parts of Africa, high concentrations of volcanic gases like these within lake waters can be released spontaneously from the lake, causing rapid and widespread poisoning of people and animals (Lake Nyos in Cameroon is the most recent example of this deadly phenomenon). Fortunately Lake Kivu is stable, and only a major landslide or an eruption into or within the lake would trigger catastrophic degassing of deep waters. Although this scenario is unlikely, it could be very dangerous.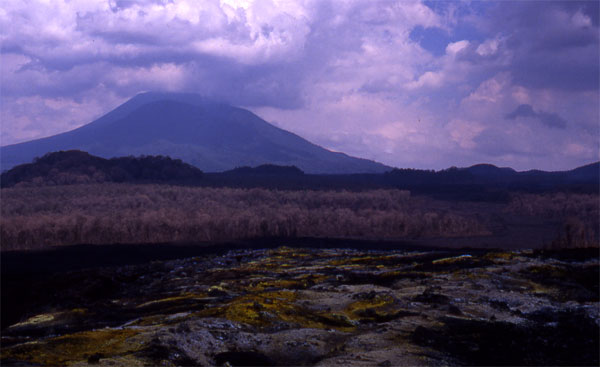 Sulfur deposits on fresh lava at Nyiragongo, 1989. Source: From the personal collection of Dr. Tanya Furman.
A more immediate threat to Goma is posed by the volcanism at Nyiragongo. A quick look at an aerial view of southeastern Goma shows that the town itself is built on a small volcanic cone!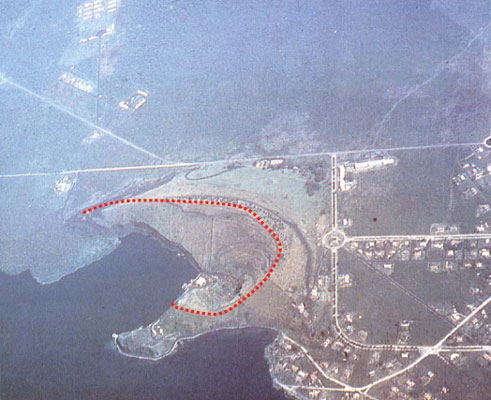 Aerial view of eroded volcanic cone, Goma DRC. Source: From the personal collection of Dr. Tanya Furman.
The lavas that erupt from Nyiragongo and Nyamuragira have an unusual chemical composition that makes them very fluid and able to flow very rapidly. Lavas from the 1977 Nyiragongo eruption traveled the 20 km towards Goma in about 20 minutes, killing between 70 and 500 people and coming to a stop just 600 meters from the airport.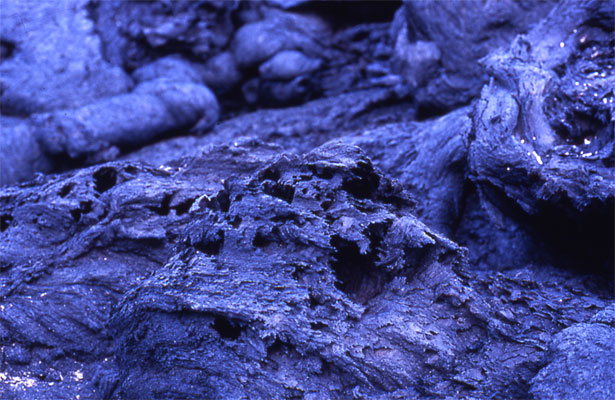 Close-up view of fresh Nyiragongo lava. Note the features that indicate rapid flow at low viscosity (a measure of a fluid's resistance to flow). Source: From the personal collection of Dr. Tanya Furman.