African Rift Volcano Case Study: Nyiragongo
In 1991, Nyiragongo volcano was named the African Decade Volcano under the auspices of the United Nations' International Decade of Natural Disaster Reduction Program. This designation made it possible to increase monitoring activities at Nyiragongo, and to track levels of the lava lake inside Nyiragongo's summit caldera, a lake of molten rock that bubbled and churned from 1982 until 1994 without triggering an eruptive event.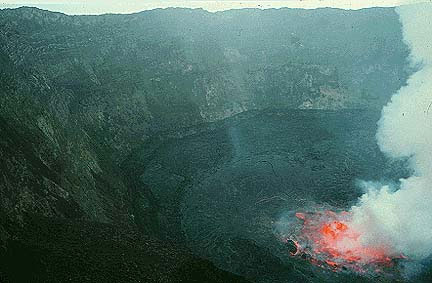 Photograph of the lava lake by Jack Lockwood, U.S. Geological Survey, August 24, 1994. Source: USGS.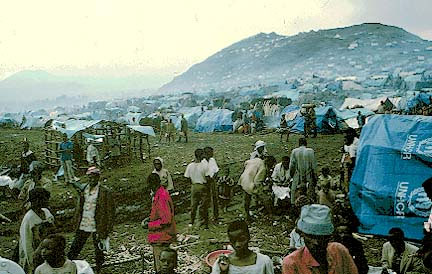 Rwandan refugees—Goma, Zaire (now DRC); Photograph by Jack Lockwood, U.S. Geological Survey, August 22, 1994. Source: USGS.
The current phase of eruption at Nyiragongo began in June 1994. Lava fountains within the crater were several hundred meters high, and fountains along the volcano's western flank produced a 10-km long chain of cinder cones and lava flows.
This volcanism would be frightening enough under normal circumstances, but at the time Goma was home to roughly one million Rwandan refugees. Kibumba camp near Goma was one of three refugee centers for those who escaped genocide in Rwanda. Ironically, the refugees sought shelter in the dangerous, smoldering shadow of Nyiragongo, where an eruption would have caused unimaginable death in the camps.
In January 2002 another eruptive episode began at Nyiragongo, this time sending lava flowing towards Goma. Fortunately, most of the refugees had been repatriated or relocated to Tanzania, so the camps were empty. The citizens of Goma were not so lucky. Rather than stopping at the airport, the lava flowed directly into town, filling the streets and destroying everything in its path. Spectacular fires and explosions marked places where the lava encountered gas stations and the airport fuel depot. Oddly enough, the vast majority of international aid workers who were stationed in this war-torn region were unaware of the threat from Nyiragongo and hence unprepared for the situation that ensued. Today Nyiragongo smokes quietly above Goma, while the citizens struggle to rebuild their town and their lives.
What do YOU think? Case Study: Nyiragongo

Go to the Lesson 10 - Case Study: Nyiragongo Discussion Forum (you can easily find that discussion forum by looking under the Communicate tab in ANGEL) and post a response to the following question: Should the citizens of Goma be allowed to rebuild their town and lives at the base of Nyiragongo? Why/why not? Do you think the people understand the risks involved? Explain.